The Benefits of a Tablet-Based POS System
Tablet-based POS systems aren't just cool—they're smart, too.  Retail businesses, restaurants, new startups and local favorite merchants of all shapes and sizes are falling in love with tablet-based POS systems. Take a quick look at five of the top features driving their growing popularity, and you might fall in love, too.
1. Low Cost
Operating expenses can eat away at a business' profits. For small and mid-sized merchants, a traditional Point of Sale (POS) system is a major investment that comes with a high price tag. But a tablet-based POS system generally comes at a fraction of that cost.
Most tablet POS systems consist of a software program that runs on an iPad or Android tablet with a sturdy protective case. Rather than forking over thousands of dollars for POS computers and associated hardware upfront, merchants can purchase the tablet and simply subscribe to the POS software application. Many tablet POS systems operate on a pay-as-you-go model for the software license, and some even offer leasing programs for the tablets themselves, essentially eliminating startup costs.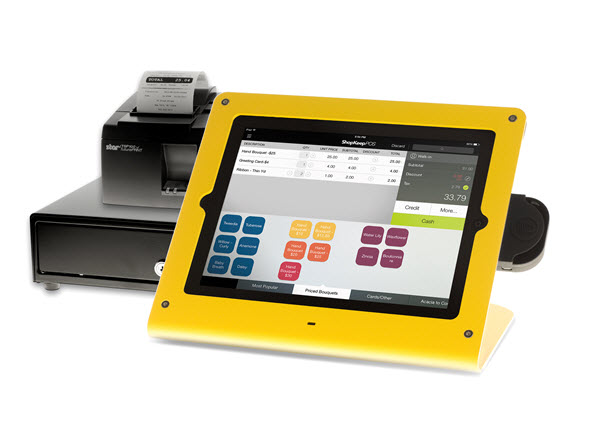 2. Easy Implementation
The time it takes to research, select, and implement a POS system is often shorter with a tablet POS. Most tablet POS providers offer robust demos that can be viewed online and some even offer a trial period, allowing the merchant to try the system out for days or weeks before committing to the purchase. Implementation can be as simple as downloading the software, and certain customizations are available with the touch of a finger.
With the low initial cost and ease of implementation, the perceived risk is much lower for merchants purchasing tablet POS systems. Choosing a tablet POS helps eliminate the risk of spending thousands of dollars upfront, committing to lengthy contracts, investing time for in person demos and customizations, and business down time for installation, only to discover the system does not fully meet the business' needs. With a tablet POS, a merchant can switch to a different software program and keep the same tablet. If they aren't satisfied with the program, switching to one better suited to the business is much easier when a $20,000 investment isn't (literally) sitting on the table.
3. Simple Maintenance
Merchants with prior POS experience know that POS glitches can bring business to a screeching halt. Few things can be as frustrating as trying to get tech support during a rush. And if a problem can't be solved by rebooting the system and jiggling cords, it may require an in-person service call from the provider to straighten things out.
The advantage of a tablet POS is that merchants can receive remote technical support. A POS provider will likely not need to visit the merchant on location to troubleshoot and solve technical problems. Many systems even have a built in diagnostic tool that speeds up the diagnosis to resolution process, minimizing downtime and eliminating the hassle of scheduling service calls.
Likewise, software upgrades can be pushed automatically, further eliminating the need to schedule maintenance with the provider and interrupt business. A tablet POS enables providers to push enhancements and security updates to the software behind the scenes, automatically.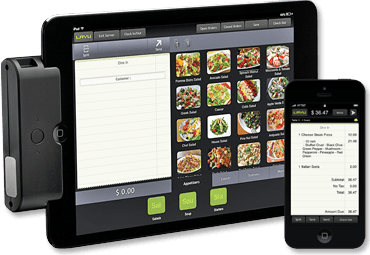 4. Seamless Integration
Tablet POS systems may be small and sleek, but they pack a big punch when it comes to business management software. The ability to monitor a business while being away from it is an invaluable feature for busy merchants. Many systems have robust reporting features that allow managers to run detailed reports and set up automatic alerts for particular scenarios like low inventory or absent employees. Some can even be configured with security camera systems so merchants can view their restaurant or store in real-time.
In addition to robust reporting features, they also integrate seamlessly with many back office programs like accounting software, inventory management programs, and marketing services. Because the system is software based, it's easier to scale a tablet POS system to perform additional tasks than it is with traditional systems, which often require custom-built integrations to accommodate compatibility with additional programs.
5. Enhanced Customer Experience
Perhaps one of the strongest ways that software-based tablet POS systems shine is in the customer experience. The user friendly interface, the mobility, the seamless integration with back office programs, all come together to deliver faster, smarter, more profitable customer interactions.
In the restaurant setting, a tablet POS can significantly reduce the amount of time it takes for a server to place an order and deliver the food, as well as accept the payment. For example, picture a large restaurant with multiple seating sections and two traditional POS stations. A server takes an order at one table and heads to the server station to enter the order in the POS. While crossing his section to reach the terminal, a customer at another table flags him down requesting silverware. The server rushes to get silverware, and is flagged by yet another customer for a drink refill. After performing those tasks, he finally arrives at the POS terminal only to discover his coworker using the POS to enter a long order. He then crosses his section once more to move to another POS terminal to place the order. By the time the order reaches the kitchen, many minutes have passed since the customers placed their order, thereby increasing the amount of time before they receive their food.
In contrast, a server equipped with a tablet POS enters the order tableside as it is being placed by the customer. The kitchen receives the order before the server leaves the table. When it's time to pay the check, the server can also accept the customer's payment card tableside and complete the transaction without leaving the customer's sight. This type of service greatly reduces errors in order placement and shortens the turnaround time for tables, which can have a big impact on the business' bottom line during rushes.
Retail sales can also benefit from the mobility of a tablet POS system. Tablets help eliminate long lines at the register by allowing salespeople to check out customers on the spot, whether in the dressing room or the lumberyard. They can also help salespeople capture sales in the moment before a customer has time to rethink the purchase while waiting in line. The ability to search inventory and suggest related or add-on products offers another level of customer service that can help retain customers and boost sales.
While certain businesses can benefit from the sturdy, tried and true traditional POS systems on the market, many are finding that tablet POS systems are perfectly suited for doing business in this modern age.
If you'd like more information about Point of Sale options, contact Motus Financial.
Moving Forward
If you aren't a customer already, it's a pretty simple process to get started with us. It's not an exaggeration to say that most of our clients wish they had made the change years ago, but were reluctant because they thought the process was difficult. We have streamlined the process to eliminate pain points and are able to guide you through the process with a ton of respect for your time. Check out our current POS solutions.
Our motto is "Moving Forward" and it is our desire to help your business positively grow in many ways. Get started today by calling us at 608-819-8666 or visit us online anytime at www.MotusCC.com.