Preparing for MasterCard's 2-Series Credit Cards
For the first time MasterCard is expanding to credit card numbers that begin with a 2. Historically, MasterCard has issued cards beginning with a 5. Even though the new cards will be processed in the same manner as the old card numbers, Point-of-Sale (POS) systems and payment processing systems will need software upgrades for a seamless transition.
While this change has been slowly rolling out since October 2016, as of June 30th, 2017 MasterCard has the ability to issue fines for businesses that haven't made the upgrade. In order to avoid fines and uncomfortable transaction declines, please reach out to us today to make sure your system is ready for the new MasterCard series.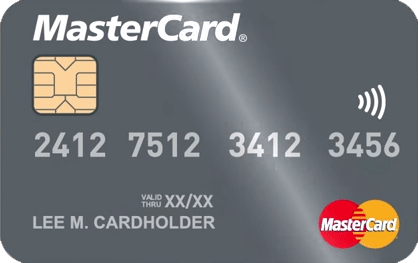 2-series credit card from MasterCard
What's The Story Behind Credit Card Numbers?
Payment cards have been around since the 1950's, and have adopted a sophisticated numbering scheme.  At the beginning of a credit or debit card there is a bank identification number or "BIN". A BIN is a six digit number at the beginning of a card number that identifies the card issuer.
The BIN is the first part of a payment card number, usually sixteen digits in length. The very first digit is called the Major Industry Identifier (MII). Here is a list of assigned MII issuers:
1              Airlines (Diners Club enRoute)
3              Travel and entertainment from non-bank issuers (AMEX, Diner's Club, JCB, and Carte Blanche)
4              Banking and financial (Visa, Switch, and Electron)
5              Banking and financial (existing MasterCard and Bankcard)
6              Merchandising and finance (Discover, Laser, Solo, Switch, and China UnionPay)
7              Petroleum
8              Telecommunications
9              Government
The rest of the payment card number is assigned by the issuer, who selects a number up to twelve digits to identify the account. Additionally, the credit or debit card number contains a final single check digit.
Interesting Fact: You can validate a credit card just by adding it's numbers
By following the Luhn algorithm, a simple checksum you can easily check a credit card number is valid. This is how it works. Starting from the right, double every other digit on your credit card. Now, add the doubled digits to the ones you didn't double. Note that if you have a double digit number such as 15, you must use the sum of its digits. For instance, 15 is 1+5=6. If the total sum is divisible by 10, it is a valid number. This method only protects against accidental errors, such as transposing the order of the numbers when reading them out over the phone. It was not designed to protect against sophisticated criminal attacks.
MasterCard 2-Series Compliance
Remember, the new 2-series from MasterCard will not change processing of their cards and will be used just like the current 5-series. As the date draws nearer, MasterCard will release more information if it directly affects merchants. Updating your existing system should bring you into compliance, but a delay in updates could cause significant penalties from MasterCard. So be sure to update today or call us to verify your system compliance status.
For more details about the 2-series change, see MasterCard's website:
https://www.mastercard.us/en-us/issuers/get-support/2-series-bin-expansion.html
If you have any other questions or payment processing needs, contact Motus Financial at 608-819-8666. You can also email us at YesPlease@motuscc.com
Moving Forward
If you aren't a customer already, it's a pretty simple process to get started with us. It's not an exaggeration to say that most of our clients wish they had made the change years ago, but were reluctant because they thought the process was difficult. We have streamlined the process to eliminate pain points and are able to guide you through the process with a ton of respect for your time. Check out our current POS solutions.
Our motto is "Moving Forward" and it is our desire to help your business positively grow in many ways. Get started today by calling us at 608-819-8666 or visit us online anytime at www.MotusCC.com.