Accepting Online Payments Through Your Website
Buying a new outfit or making a utility payment online is a given these days: transactions are seamless and work any time of day, no questions asked. So why aren't more businesses accepting online payments for service-based invoices? The most common reason is that it's hard to implement and can expose a business to risk. The reality is that it's simple, low risk, and is something you already have access to through your credit card payment processor.
In this article, we'll explore several methods for accepting payment through your website, but it all starts with something called a payment gateway.
What is a payment gateway?
A payment gateway processes credit cards at online and offline stores. It transfers the key information between websites/mobile devices and payment processors/banks, and vice versa.
So if you decide to integrate payment into a website and make user experience smooth, think of the gateway as a tool to deal with all the financial transactions online.
Basically, it's an online representation of a real point of sale terminal that you see in retail stores. To ensure the transaction safety and protect your website from fraud, a payment gateway encrypts all sensitive information: credit card number, expiration date, and CVV code.
How does a payment gateway work?
The main task of a payment gateway is to process credit card information of online customers dropping to your e-commerce store for example.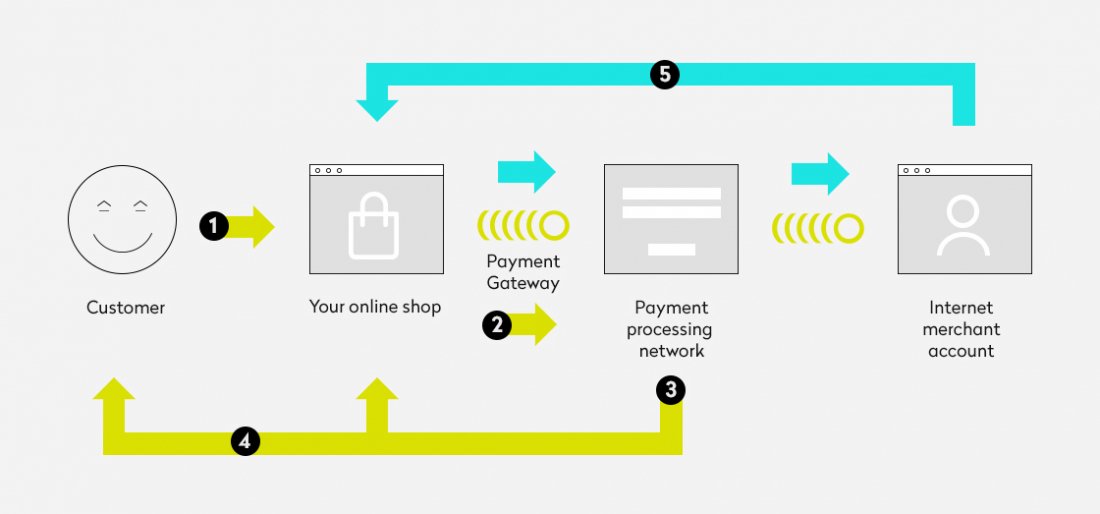 The customer presses the "Place order" button at checkout. The browser encrypts the payment details and sends them to the merchant's web server via SSL connection.
The merchant sends these details to a gateway – again via an encrypted SSL connection.
The payment gateway sends the information to the payment processor, which, in turn, forwards it to the card association (Visa, MasterCard, etc.).
The bank that issues the credit card receives an authorization request and sends a response code back to the payment processor. The response code contains information about the transaction status (approved or failed) and the error code in case the transaction failed (insufficient funds, etc.).
The payment processor sends the response code on to the gateway, and from there it's forwarded back to the website.
The website displays a relevant message to the customer.
The whole process takes as little as 2-3 seconds!
Payment gateway types and providers
There are two types of payment gateways to enable – non-hosted and hosted.
Hosted payment gateways
These gateways take your customer away from your website to complete the payment and then redirect them back once the process is complete. For most providers, you can simply add a link or a PAY NOW button to your website and your setup is complete.
If you already did some homework and read about how to add a payment gateway in a website, you must have heard about the most well-known hosted gateways are PayPal and Stripe. They operate on a monthly fee + percentage of transaction cost.
Non-hosted (integrated) payment gateways
Now let's look at payment gateways that smoothly integrate into your website and keep the user only at your store or platform without taking them away and pay somewhere else.
The vast majority of non-hosted gateways come with extensive APIs and readily available modules to integrate into your shopping cart. However, if you run your website with a custom engine, you will have to shell out on custom programming to integrate the payment gateway to your website.
Let's take a look at some of the non-hosted payment gateways, go through their features and fee structure.
Authorize.net
It's the workhorse of the online payment gateways – and it's been around since 1996.
Authorize.net accepts all major credit cards and works with digital solutions like PayPal, Visa Checkout, and Apple Pay.
It identifies and manages potential fraudulent transactions via Advanced Fraud Detection Suite™, provides address verification service, card code verification, and supports Verified by Visa and MasterCard SecureCode™.
The 7 step card processing is explained in a clear diagram.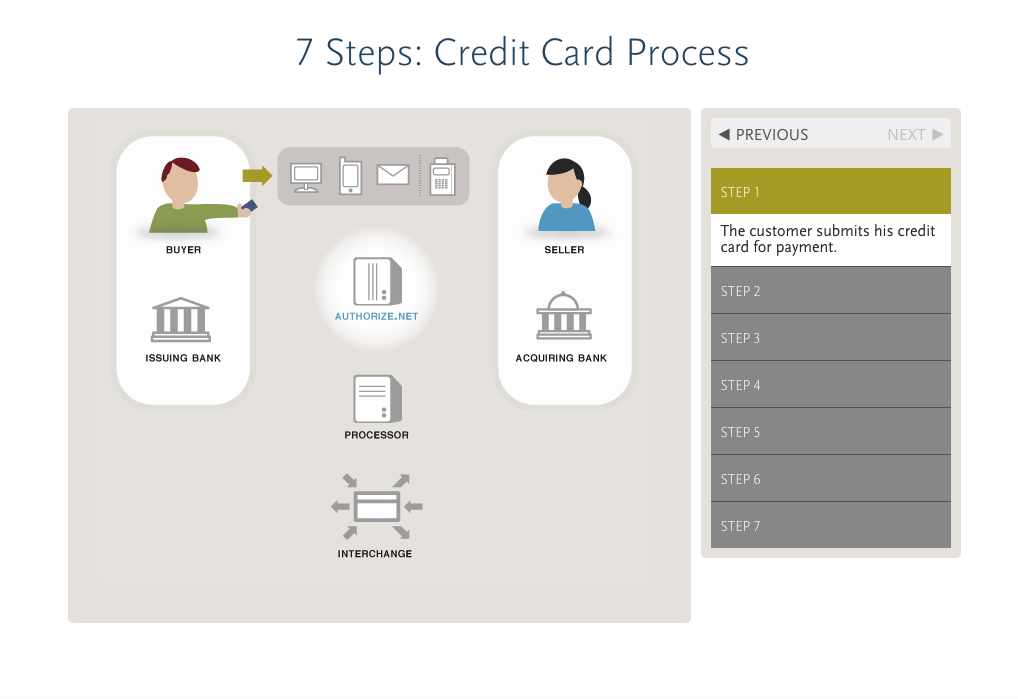 Authorize.net is compatible with credit cards issued anywhere in the world, and can be integrated into mobile apps related to your portal:
– Mobile In-App Payments: the data is not stored on your servers.
– Mobile Web Checkout: accept.js is used to integrate a web payment form with the look and feel of your website and still keep PCI compliance since the transaction details are sent directly to Authorize.net servers.
Payment gateway for a website: transaction types
Before jumping into the details of payment gateway integration, let's see what types of payment transactions exist – depending on your business, you may want to pick a specific one for your e-commerce site or a portal.
The common transaction types are authorization, capture, sale, refund, and void.
Authorization
This type is used to determine the customer's ability to pay and find out if there are enough funds on their credit card. The actual fund transfer doesn't take place in this case. It makes sense to use the authorization transaction type if it takes some time for you to ship the products ordered online and you need to guarantee the funding by the card issuer.
Capture
Capture transaction lets you capture the money that was previously authorized and send it for settlement. Thus, if you sold a product online that took time to manufacture/prepare for shipping, you first need to authorize the payment, and when the product has been shipped – capture the amount, and it will be transferred to your account.
Sale
Sale transaction combines authorization and capture. If you fulfill orders immediately that's the transaction type you should use – the money is charged and transferred at once. It will also be suitable if you sell a service membership and immediately provide the user with access.
Refund
Things happen, and if an order has to be cancelled for some reason, the merchant will need to refund a transaction and submit it for processing. Most of the time, a refund is limited to the original amount authorized and can only be applied to Sale and Capture transactions.
Void
A void transaction is similar to a refund, but it can only be applied if the transaction hasn't been settled yet. Typically, the transaction will disappear from the customer's account statement within 24 hours, while it may take 3 to 5 business days to process a refund.
Bottomline
The choice of payment solutions out there is vast.
There's no need to reinvent the wheel when deciding on how to create a payment gateway for a website.
We know sometimes it's not that easy to decide provided the number of options, so no matter what – count on us and we shall talk about how to create a payment gateway for a website with no hassle.
We'll be glad to answer any remaining questions you have, explain how to include payment gateway in website further.